SAFETY EYEWEAR
 I-Vision Optometrists is specialising in Prescription Safety Glasses with Australian Certification.
Frames we carry are:
– Eyres Safety Prescription- http://www.anamorphixx.com/ProductGalleryX.aspx
– PSG- Contract Prescription Safety Glasses (Rio Tinto, Cape, Australian Post and more) – http://www.rxsg.com.au/frames/
All prescription safety glasses come with Australian Standard Accredited Certificate and specialised in safety lens material.
Have a high script? Send your script to admin@i-visionoptom.com.au and we'll give you option on which model is suitable and works for you.
| | |
| --- | --- |
| Single Vision (Clear, Transition) | Progressive/Multifocal (Clear, Transition) |
| Single Vision – Sunglasses Tint, Polarised | Progressive/Miltifocal – Sunglasses Tint, Polarised |
| Bifocal (Clear, Transition) | Anti Reflective Coating |
| Bifocal – Sunglasses Tint, Polarised | Accessories Add-ON |
---
Our safety prescription ranges also available in LOW IMPACT.
The type of safety eyewear you wear is dependent on the task or activity conducted, and the risk that task can have on damaging your eyes.
Low Impact: Suitable for tasks where there is low risk of damage to the eyes, with no debris, however some protection is still required. Suitable for occupations such as a dentist, doctor or any chemical laboratory related tasks.
Medium Impact: Suitable for occupations where there is a high risk of debris that can damage the eyes, or where blunt objects are utilized. This can include mining, construction, grinding, farming and agriculture, wood-working, machinery usage, hammering or brick laying.
I-Vision understands that sometimes it is not convenient or possible to collect your prescription  safety eyewear once the order has been made. We can Registered Australia Post (within Australia Post shipping area) the glasses for a nominal fee of $15 so you can start protecting your vision at work sooner.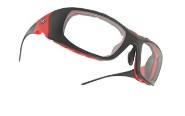 HOYA SAFETY RANGE:
MATADOR FRAME
Price for Mojo frame starts from $365.00 (Prescription Frame and Lenses Package)

EYRES SAFETY RANGE:
TRANSFORMER FRAME
Eyres Prescription Frames and lenses package starts from $350